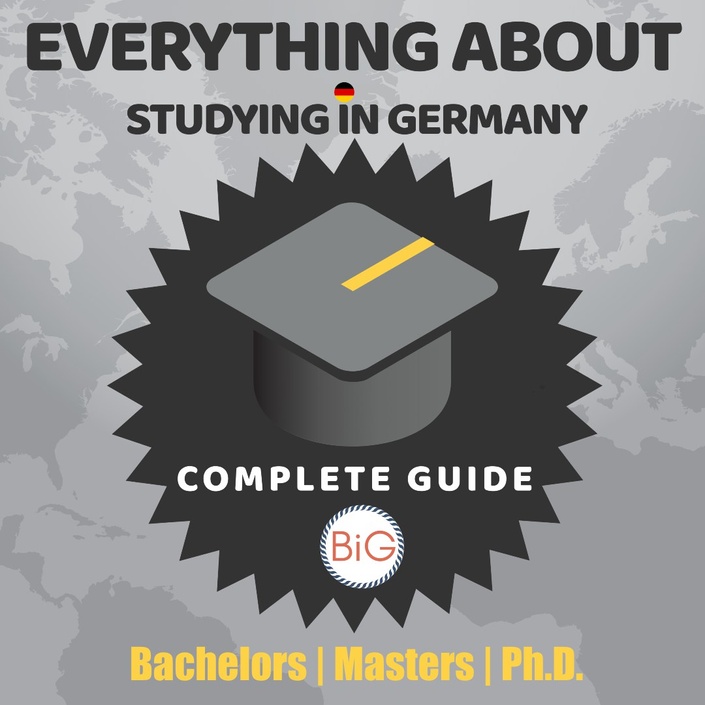 THE COURSE IS CLOSED FOR ENROLMENT
Students enrolled in our course are our first priority and so is supporting them in their journey of coming to Germany.
Because of overwhelming demand for joining the course, we have to close down the course for further enrolments to make sure we can give our best to guide the students who are already enrolled in the course.
Our Live QnA Session bi-weekly in the enrolled students Facebook group, document reviews and 24 hour support is entirely focused on our students who are in the course right now.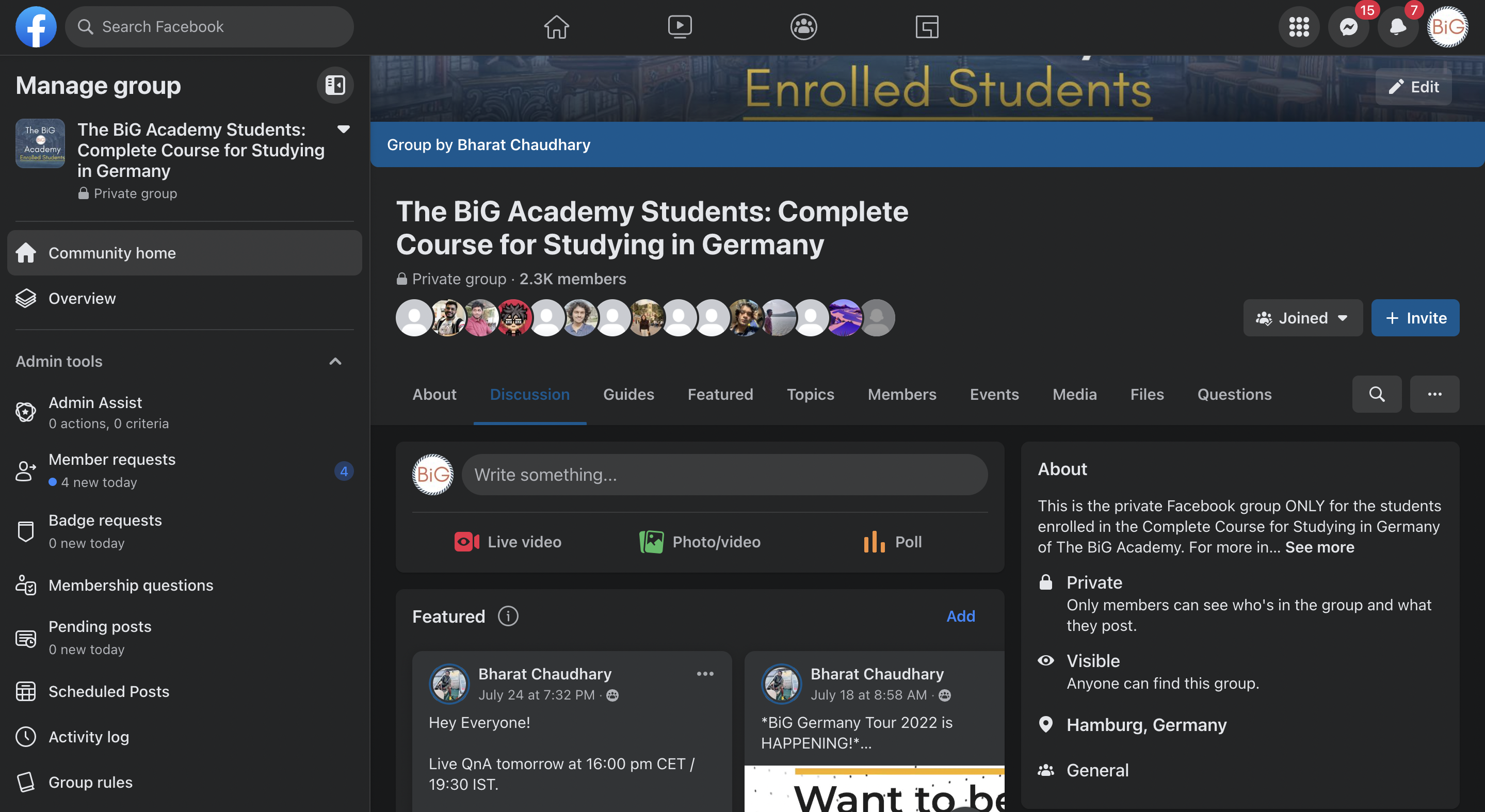 The course enrolment is now by REQUEST / WAITING LIST ONLY.

You can either sign up in the waiting list or send us a request via email - with your motivation for joining the course. We want to make sure that the students who want to join our closest community have the same values as we do.
For us it has always been about building a long term relationship - which carries on when students reach Germany and start their academic and then professional life there.
Sign up in the WAITING LIST HERE.
Notification of the course opening is sent via email first come, first serve basis.
Have questions? Please write to us at [email protected]
If you are new, you can also start by downloading this FREE PDF:
Basic Admission Requirements for Studying in Germany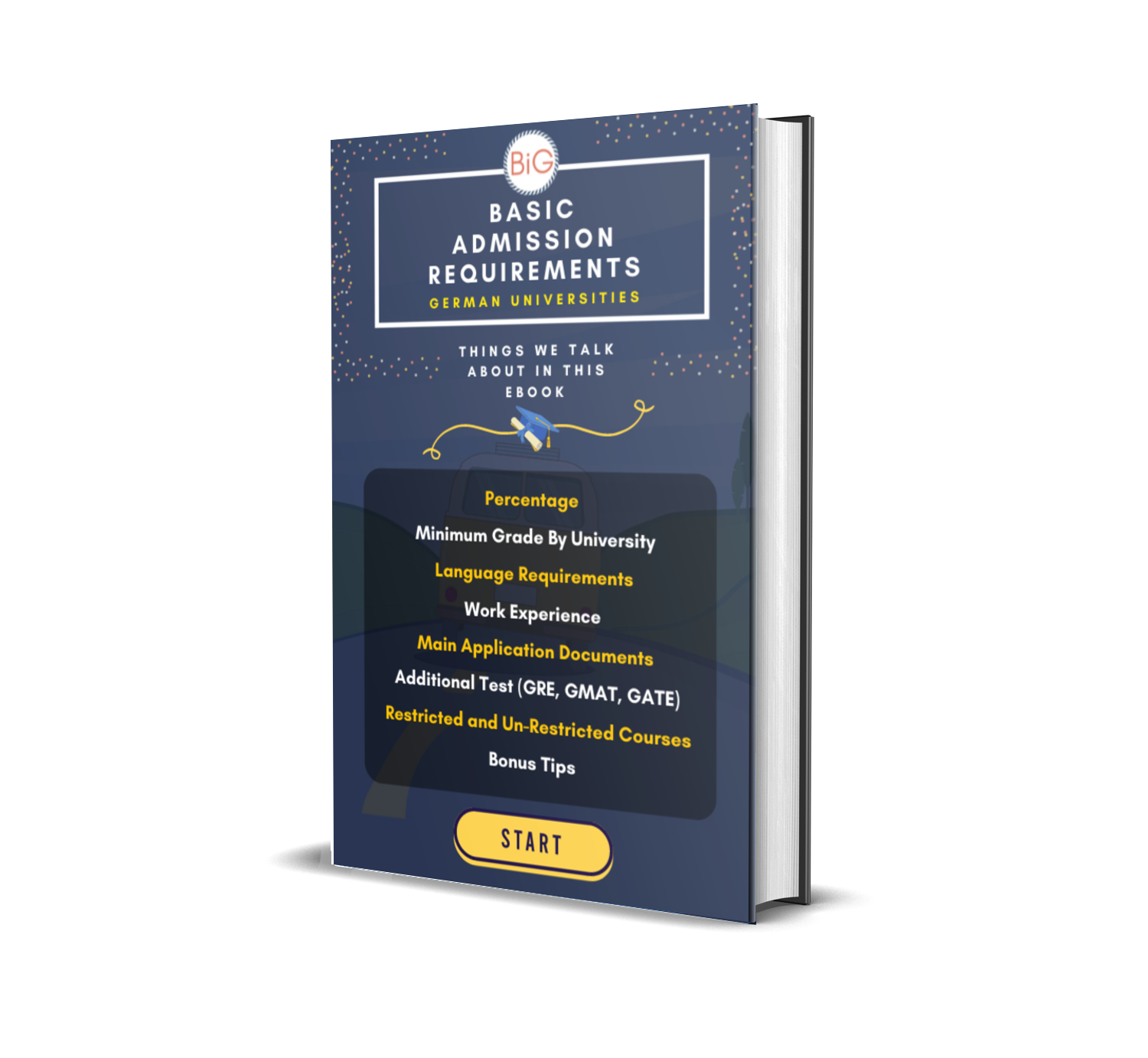 When it comes to studying in a country you have never been to, trusting the wrong people means just wastes a lot of money and costs a lot of nerves.
With my online course, you get complete support from the moment you start preparing for your studies in Germany, till the time you are done with your Masters in Germany and everything in between!
I was at the place where you are right now.
I have personally gone through struggles you will be going through in your process of starting your studies in Germany.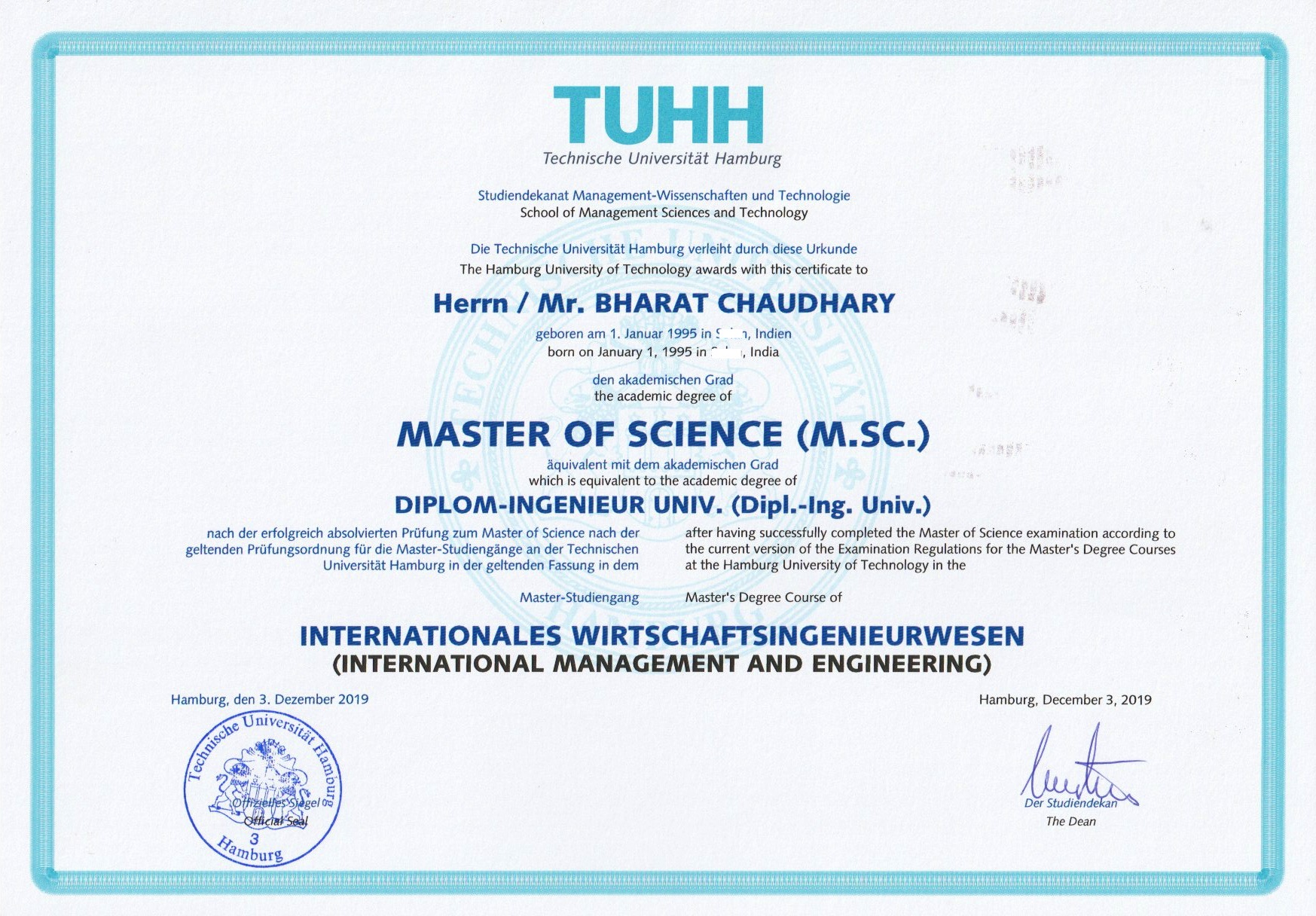 And now after having my M.Sc. in a German Taught Masters Program at TU Hamburg, with native German Proficiency of C2 level, I am here to help you.

Save time and get proper guidance from a proven mentor so that you don't fly blind into this new phase of your life.
Over 2300 students already trust and enjoy the guidance they receive with the help of my time tested and proven online course which covers everything related to studying in Germany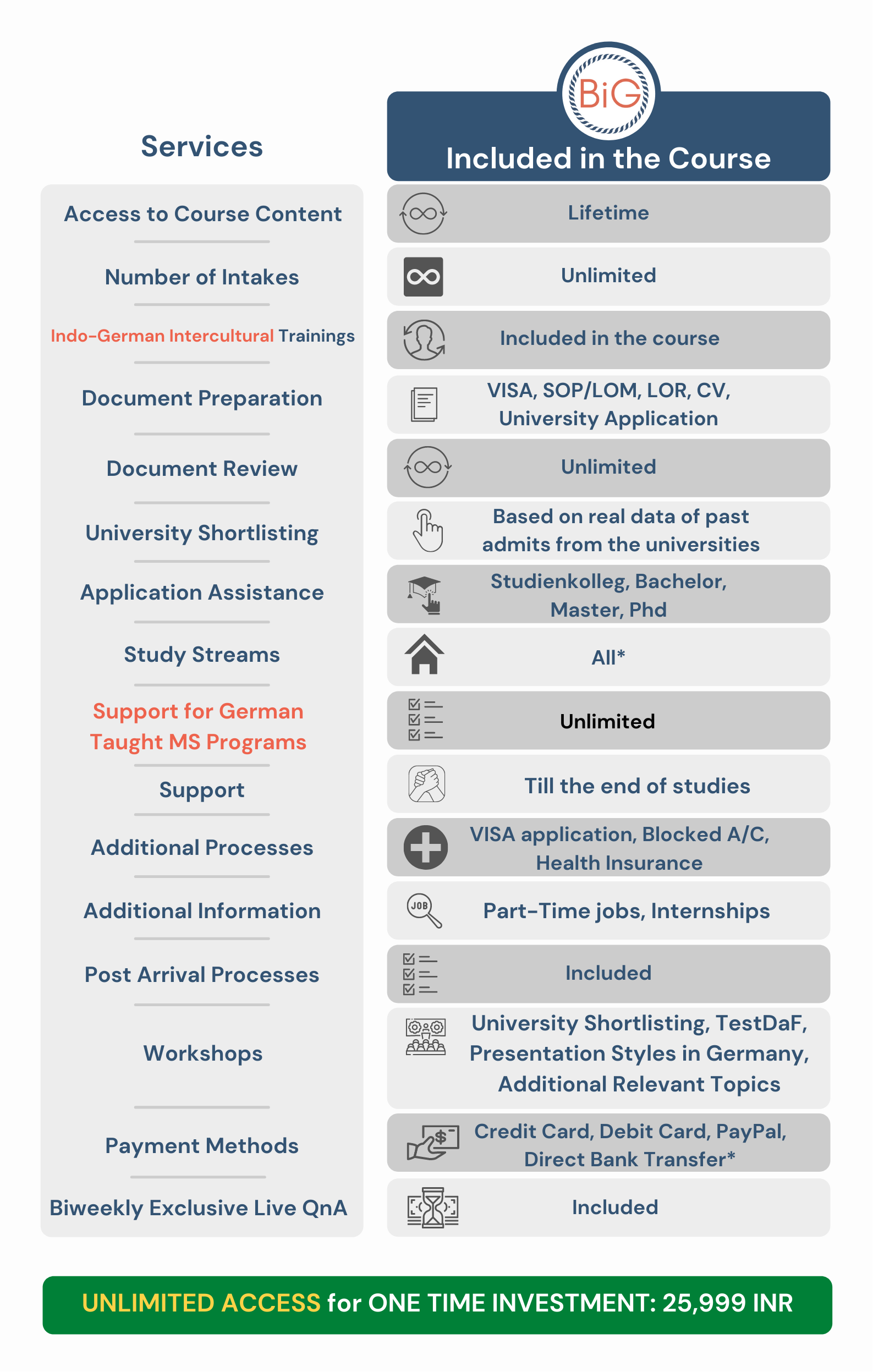 A Course which makes your Life Simple!
This course solves that for you with its ridiculously uncomplicated step-by-step process to mentor you through different phases of your journey towards tuition-free German public universities.*This course is not suitable for students with medical degrees or backgrounds who want to study further in Germany.
The course is perfectly suited for all other fields like commerce, management, engineering, natural sciences, arts, architecture, pharmacy, social sciences and humanities, EXCEPT students who want to do MBBS or MD, Nursing, Dentistry in Germany.
You can contact us at [email protected] for any questions.
Course Curriculum
How to use the course?
Available in days
days after you enroll
(NEW) How to Apply for the APS certificate?
Available in days
days after you enroll
The course includes:
Self-Profile Evaluation (based on real data collected from 520+ students studying in Germany)
Shortlisting universities and selecting the right courses
Unlimited Reviews of SOP, LOR, and CV in the biweekly live sessions (given that you followed all the guidelines of the course while preparing them!)
All Application Procedures: Directly to University, via Uni-assist or with VPD
Preparing Documents for the Visa Process
Blocked Account and Health Insurance
Finding Accommodation in Germany
Post-arrival processes: Things to do after reaching Germany
Finding part-time job and internships in Germany
Organising your studies in Germany: German universities exam patterns and preparation tips
Immigration Rules in Germany: Visa Extensions, Permanent Residency, and Citizenship
Along with that all of these processes, the guide will help you prepare yourself mentally for your studies in Germany, because a lot of students come to Germany, the culture shock and the difference in the study atmosphere is too much for them and they just recede and become less productive and stop taking initiatives which hinders them from making the most out of their Masters. This kind of preparation will include the following along with many other contextual examples provided in different lessons:
How to organize studies in Germany?
How to prepare for Semester Examinations?
How to learn German on the side while studying?
Effective ways to take notes in the lecture.
Institutions to contact during emergencies.
Post admit scholarships in German universities.
How to work independently?
And you will be able to do all of this all on your own and with purely my guidance. You wouldn't require any third party help whatsoever throughout your application, visa, after-arrival phase and even when you start studying here!
The course will cover in detail every procedure for the following 3 groups of students/professionals:
who are planning on doing Bachelors in Germany
who are aiming for Masters in Germany
who are looking forward to completing their Ph.D. in Germany
It doesn't matter from which stream you are: Diploma, IB Diploma, BBA, B.Sc., B.Com, B.Tech, BMS, BCA, MBA, M.Tech., M.Sc. or just 12th class, if you want to do Bachelors, Masters or Ph.D. in Germany.
Note: This course is not suitable for students who want to seek guidance in MBBS or MD in Germany! The procedure for that is completely different and isn't possible to cover in the scope of this course!

There are 10 different sections with over 90 detailed lessons in total along with a Bonus Section! Your lessons will be taught by:
Step by Step Instructional Videos
Detailed Explanatory Presentations
Interviews
Downloadable Material
Regular Workshops
Lifetime Access
Your Instructor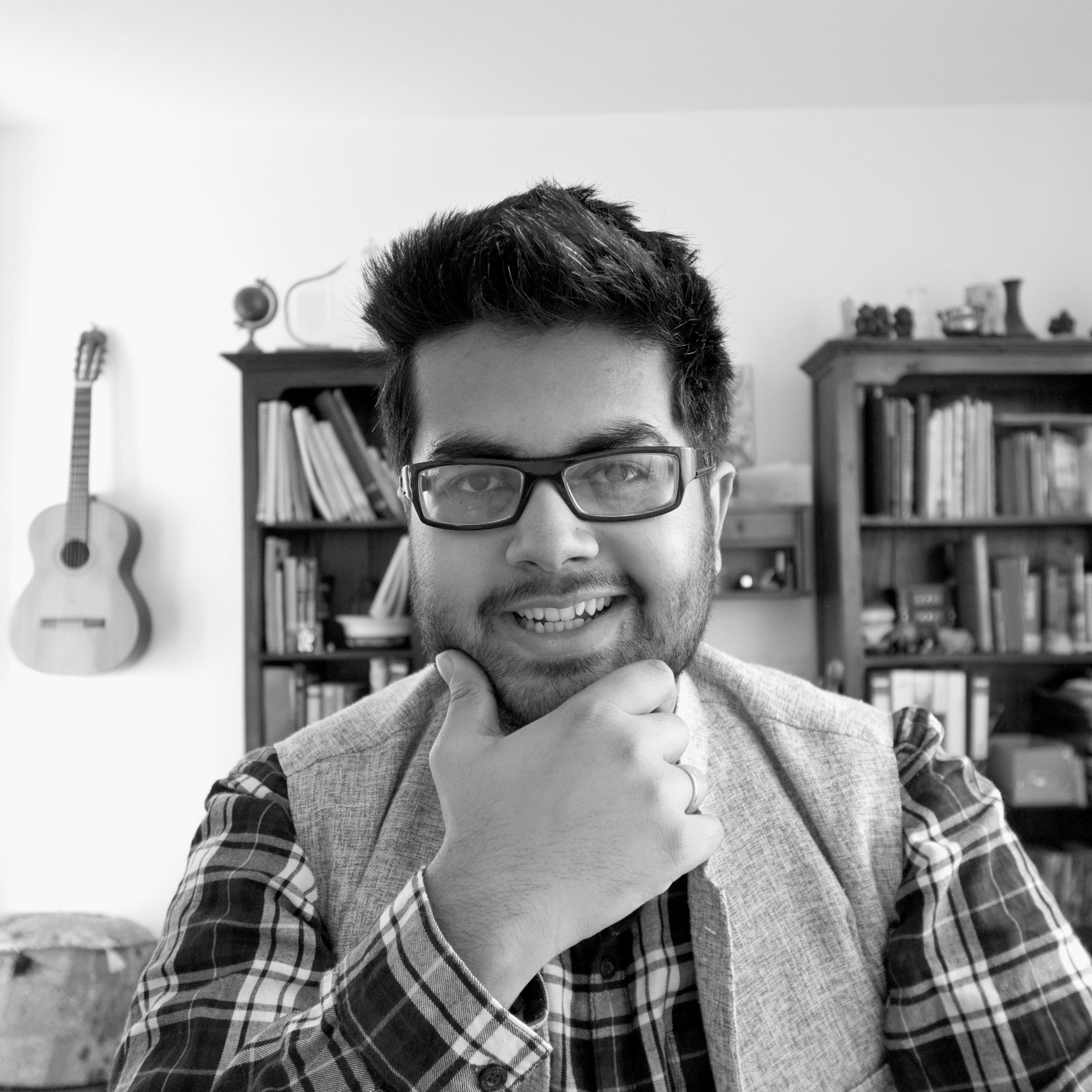 Bharat finished his Masters in TU Hamburg with the German taught Masters program M.Sc. internationales Wirtschaftsingenieurwesen and has helped hundreds of students to start their studies and career successfully in Germany with his online courses.
MS in Germany after BCA is completely possible!
Only the consultants who have no idea about the German education system spread lies that 3 year Bachelor Programs are not accepted! Along with Pratibha, another one of our students Apurva, got admitted in MS in CS program of Passau University after their 3 year BCA studies in India!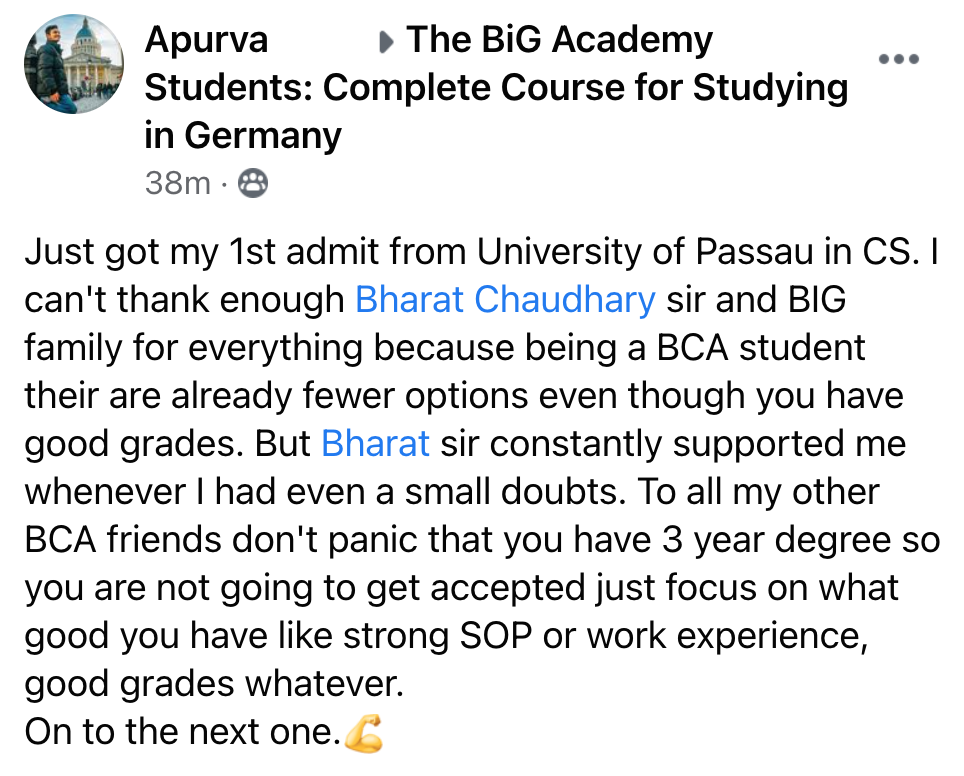 Another student Ashish, also got admission in the University of Mannheim in Masters in Business Informatics after his BCA program in India.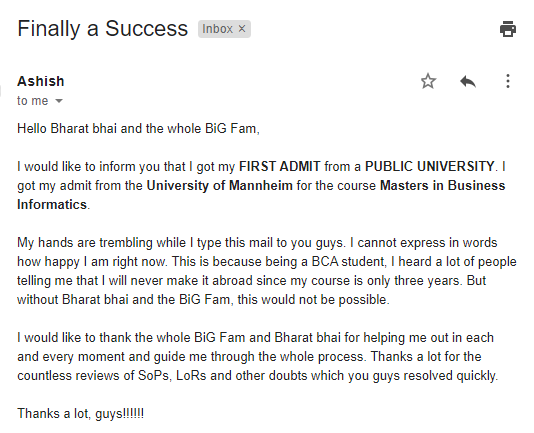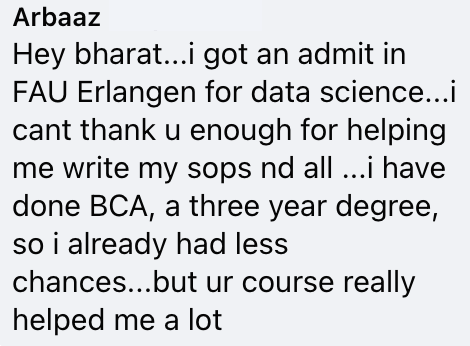 Frequently Asked Questions
When does the course start and finish?
The course starts now and never ends! It is a completely self-paced online course - you decide when you start and when you finish.
How long do I have access to the course?
How does lifetime access sound? After enrolling, you have unlimited access to this course for as long as you like - across any and all devices you own.
Would I need any consultants?
Most of the consultants have NEVER been abroad themselves, have NEVER studied in a German public university, do NOT have any German proficiency and do NOT have a Masters degree, so you might already guess their level of expertise. They have NOT been through the path that you want to go through, but I have. The course will not only teach and prepare you to come to Germany but also guide you to do everything on your own without any outside help, but even if you still need some, you can always reach out to me at
[email protected]
Will you fill out our application forms?
A simple answer: No. Do you really want to hand out the BIGGEST career decision that you might ever have to take to anybody else other than yourself? Any specific questions that you have will be cleared by the course contents itself, but whenever you still need help, you will always be in close touch with me for guidance and reviews our private Facebook group for enrolled students, via email and via the exclusive live sessions that take place for the students every two weeks.
I want to do MBBS / MD / Nursing / Dentistry in Germany. Can I take this course?
This course is not suitable for students with medical degrees or backgrounds who want to study further in Germany. The course covers all other fields like commerce, management, engineering, natural sciences, arts, architecture and humanities, except medicine.
I have below a score below 60%. Can I still use this course?
Below 60%, the chances are very less that you will get an admit in a public university in English taught programs, BUT you can still use this course to do the application process for any other German taught programs in public universities or even private universities (if you are into that, I definitely am not!) and still get support till the time your Masters is done in Germany. From the data I have gathered from over 400 students who have received admits in German public universities, a score of above 65% is great for getting admission in German public universities! In any of the two cases, the course is going to be extremely helpful for you for getting you started with the process and settling you down in Germany.
I can't pay 45,999 INR together. Can I pay in instalments?
We understand 45,999 INR can be a big investment for many people. However if you would look at anybody else who is offering guidance regarding studying in Germany, they offer 10% of the guidance that we provided with 10x price. We aim to provide quality guidance to anybody who is willing to study in Germany and this is the least price we can offer this at. Unfortunately because of our previous experience with many students not honouring instalments payments, we no longer have this option.
I am not from India. Is this course still applicable to me? 🇮🇳
In the course, we have students from over 6 different nationalities. 🇲🇽 🇨🇱 🇬🇭 🇳🇬 🇵🇰 🇧🇩 As the studying in Germany requirements is always controlled on the side of Germany (German universities, Foreign missions, Language institutions and so on), as long as you want to study in Germany, 🇩🇪 you'll get all the support you need from the course.
Can I buy the course together with a few friends?
No. It takes a lot of time and effort to take care of a student for around 3 years and we can still barely manage to do it at the price we are offering at the moment. The course is designed for individual use only. If you have some friends who would like to enroll too, feel free to welcome them to enroll separately. Teachable uses IP tracking methods and if seen that the course is getting logged-in frequently from different IP addresses, the user might get blocked for security reasons. Having said that, using it on your phone and on your laptop at the same time is totally fine. If we find out that the course is being copied, used by multiple persons or the information is being shared, we would take legal steps against it. So help us give you the best possible experience in the course by using it for your private purpose only. :)
5 Reasons to Enroll in This Course Today⌛
1. Somebody you trust:
If you follow me on any YouTube/Instagram/Facebook, you know that I only have students' best interests in my mind and have helped out hundreds of students to settle down and lead a good life in Germany. Around 1800+ other students took action to take their dreams of studying in Germany seriously and join our exclusive biweekly Live QnA session. We are looking forward for you to join the movement too!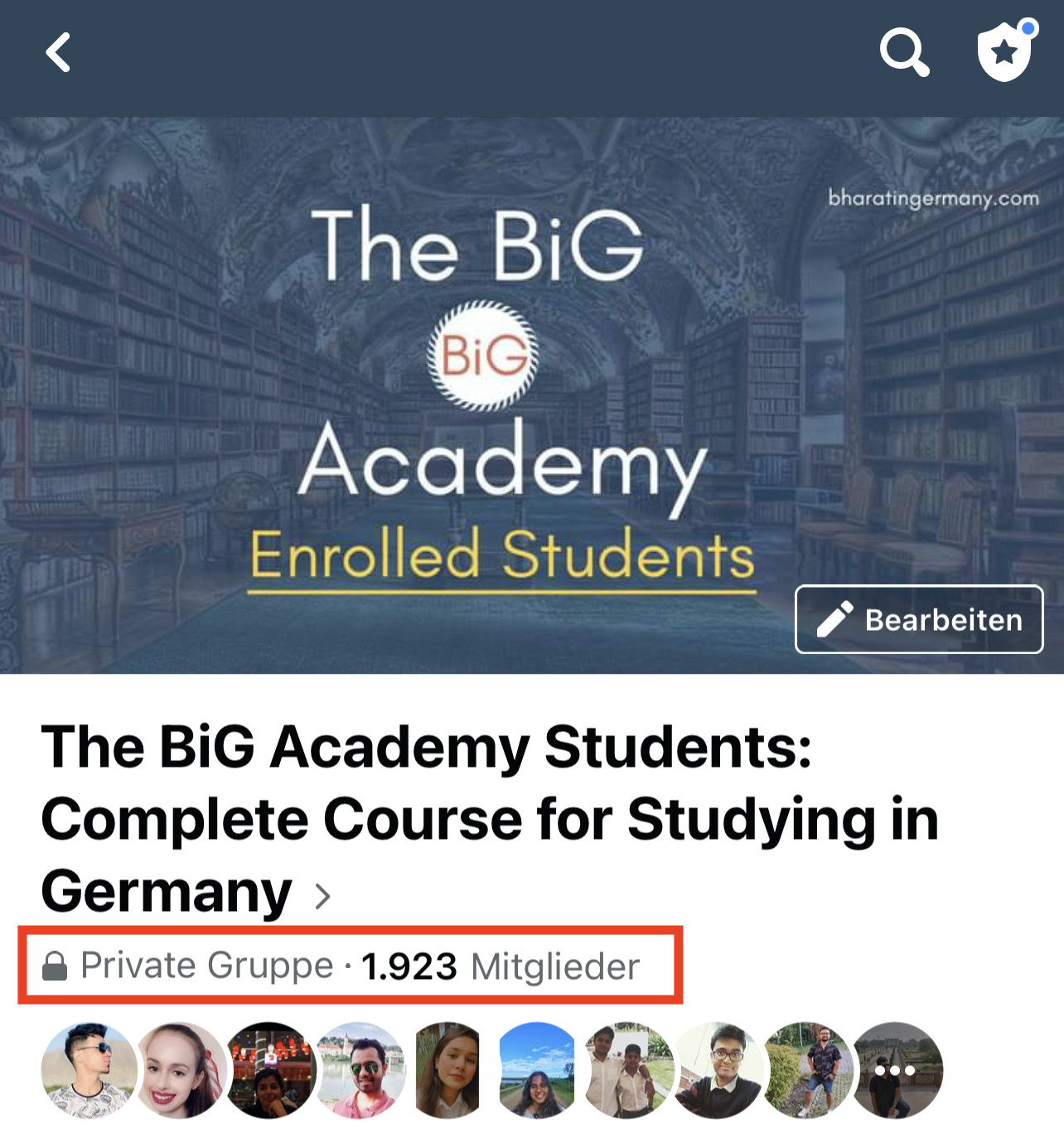 2. One time investment:
Enrolling in this course is a one time investment which is going to give you ten fold better returns. So many people easily give out 2 lakhs INR to 5 lakhs INR to an 'agent' who has never even studied in Germany, but we offer you 100x better support at 10% of the price, because we our process is completely digital. This helps us avoid unnecessary costs with which we can also keep the cost lesser for our students. Compared to the 10x more money that you would pay to a 'consultant', so that he can throw you in a private university anyways in the end, the price of the course is a bargain and you will know that your money provided you the best guidance possible.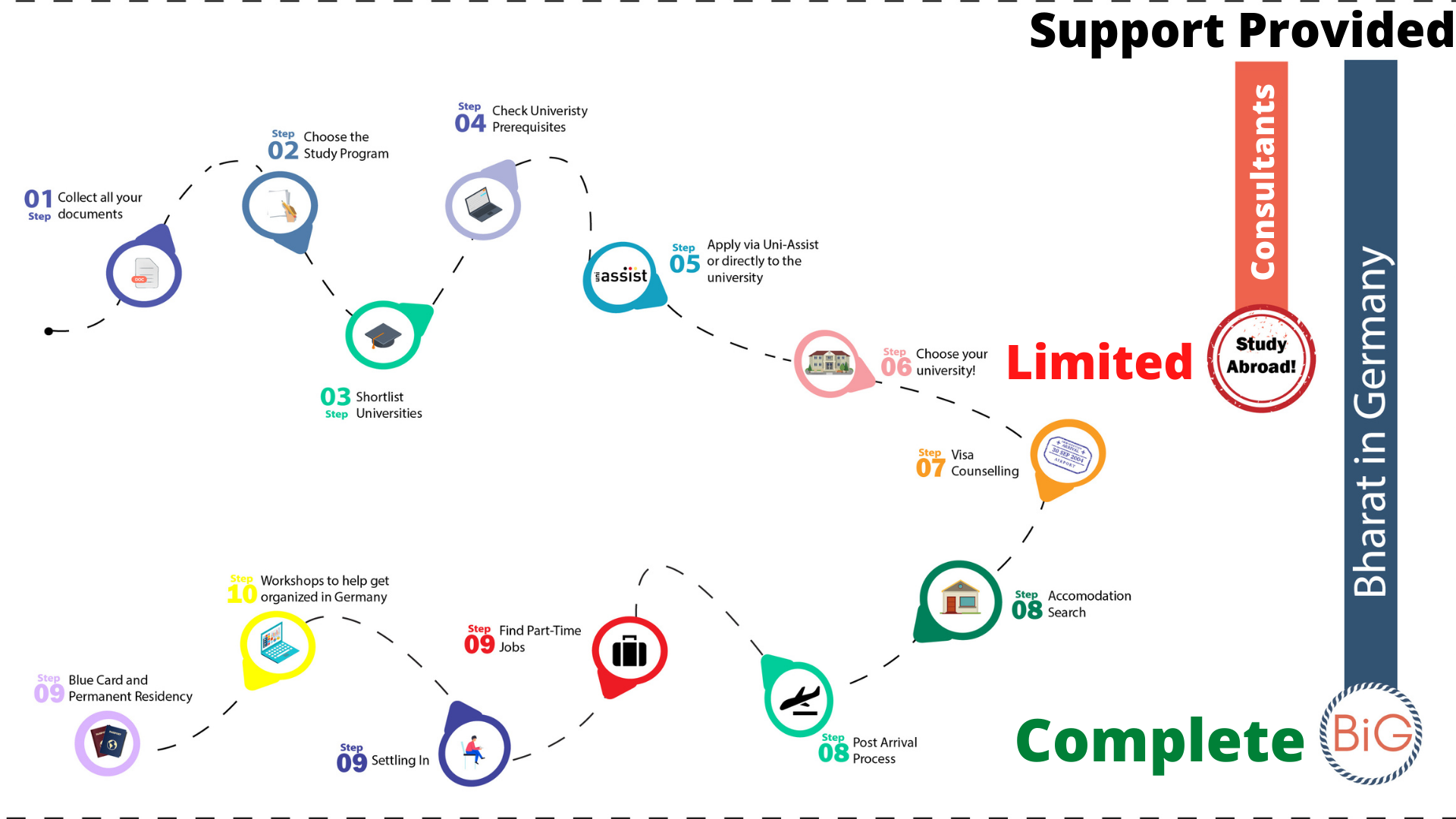 3. Support for GERMAN Taught Programs:
With Bharat's C2 level German proficiency, he can easily guide other students who want to study in German taught programs too: be it Bachelors or Masters. Germany is more than just studying in the universities. You have to understand what companies to intern in, where to do the part time jobs and which opportunities you absolutely have to grab! I guide my enrolled students about this with biweekly live sessions in our private Facebook group!
4. And something that NOBODY will offer you:
Most of the 'education consultants' have never even been to a public university, (let alone having a Masters!) and hence, don't know the struggles of the students! If you enroll in my course, I wouldn't just guide you through your application or visa process, I will support you till you are done with your Masters in Germany 🇩🇪! Internships, part time jobs, university presentation, exam tips, intercultural preparation, everything! Now if nobody has offered you that till now, head down and enroll in the course right now so you never have to figure out whom to ask or whom to write when you face any kind of problems any time!
5. Lifetime access:
Once you pay for the course, you will have access to the course contents for lifetime! That means even if you buy the course now, come for the next intake or the one after that or access it 10 years from now, you will still be able to access everything and you would be lucky because you invested in the course when the price was still a bargain!
Why Students Love This Course! 🤩
Imagine never having to worry again, whom to ask your questions about the hurdles you come across during your application process. Sounds nice right? The course gives you exactly that. Enough of what the course contains, I will let my students speak for the transformation that this course helped them go through.